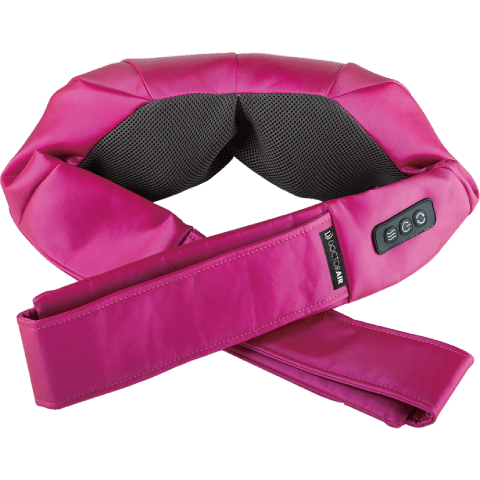 DOCTOR AIR
3D NECK MASSAGER
A compact massager which fits perfectly around the neck and shoulders.
The cordless design makes it usable anywhere, anytime.
JAPAN TECHNOLOGY


A cordless massager to bring relaxation to your daily life, with a simple yet firm touch.
The compact size is an easy addition to your home, and fits perfectly around the neck and shoulders.
The cordless design makes it usable anywhere, anytime.
Removes daily stress.
Stress accumulates in various parts of the body, not only the neck and shoulders.
Use the 3D Neck Massager to thoroughly relieve tightness or fatigue felt anywhere in the body.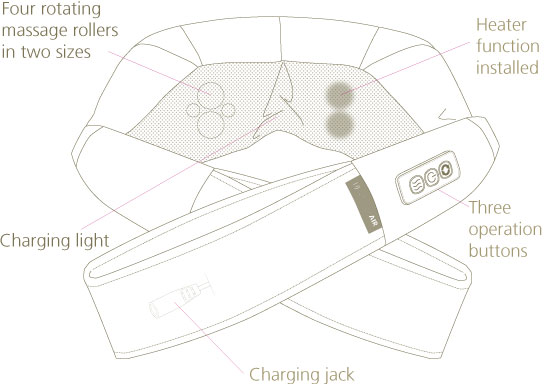 Recharge using the charging jack
* Can be used while recharging.
Three simple and easy-to-understand buttons
Switch rotation direction of massage rollers
Power button
Heater on/off
Functions
Switch massage roller rotation direction
The four massage rollers, of two different sizes, work together to relieve tightness and fatigue.
The rotation direction can be reversed to suit preferences for a more enjoyable massage experience.
Heater
The heater in the massage rollers simulates the sensation of human touch.

Heater on

Heater off
Compact size
The compact size makes it easy for anyone to carry, and perfectly fits the neck and shoulders without any additional weight. After use, it can be put away easily without creating clutter in the room.
CordlessRechargeable

Because it is rechargeable, portable and cordless, you can use it anywhere and at any time.
Three color options for your home.
The shape and colors are designed to be an easy addition to your home.
Massage roller light and heater function

The massage roller lights change colors according to the heater function.
Heater on
Heater off
Purpose and expected effects

Substitute for massage.
For household use.
Relieves fatigue, improves blood circulation, removes muscle fatigue, relaxes tight muscles, and relieves nerve pain and sore muscles
3D NECK MASSAGER
Product name
3D NECK MASSAGER
Model
Pink (MN-001PK) JAN: 4580235554814
Brown (MN-001BR) JAN: 4580235554807
Black (MN-001BK) JAN: 4580235554791
Suggested
retail price
14,800 yen (tax included)
General name
Household electric massager (Controlled medical device)
Medical device
certification number
228AHBZX00016000
Power
100–240V AC / 50–60 Hz / Lithium-ion battery (11.1V DC / 1800 mAh)
Rated power
consumption
18 W (Heater: 8 W)
Charging time*
Approx. 3.5 hrs. (per full charge)
Battery duration*
Approx. 40 min (with heater on)
Count of charging
450 times
Count of kneading
30/min (±10%)
Heater temperature
50°C ± 3°C
Surface temperature
when heated
40°C ± 3°C
Timer
15 min (±10%)
Suggested
temperature and
humidity for usage
+10 to +40°C / 30 to 85% RH
Suggested
temperature and
humidity for storage
0 to +40°C / 10 to 85% RH
Dimensions
450 mm W x 145 mm H x 600 mm D
Weight
1.56 kg
Materials
ABS, Polyacetal, Synthetic leather
Made in
China
The actual recharging time, battery life and recharge cycle may differ depending on the usage conditions and environment. Assumed usage time is 15 minutes a day.